Benefits of Massage Therapy
The massage therapy training programs at Mildred Elley could be your first step to following your dreams of being a natural healer. Looking for more information? Our blogs explain everything from our program at Mildred Elley to massage therapy career opportunities, so start exploring the benefits of massage therapy for your future career path by checking out our blogs!
There is no doubt that massage therapy is a holistic healing method that is loved by many and has a variety of health benefits like reducing stress, improving the immune system, and relieving muscle tension. We know the benefits of massage therapy on clients, but what about the benefits of massage therapy as a career path? This natural health care method has made a demand for massage therapists in the industry. Massage therapy career opportunities are available in spas, hotels, fitness centers, and medical offices.
If you are considering enrolling in a massage therapy program and want to learn more about specific aspects of the program like the massage therapy course length, training opportunities, and more then look no further. We have a Benefits of Massage Therapy section of our blog, where you can discover all you need to know about the massage therapy field!
Massage Therapy at Mildred Elley
Here at Mildred Elley, we have designed a curriculum that is focused on hands-on training and real-world experience. In our massage therapy school, you will have the opportunity to learn techniques like regular massage, sports massage, and Swedish massage. Our students apply these skills and techniques in our massage clinics located in Albany, NYC, and Pittsfield! At Mildred Elley, you could achieve your Massage Therapy Certificate or A.O.S. degree depending on which campus location you choose!
Albany
New York City Metro
Pittsfield
There are hundreds of careers to choose from; have you ever thought of massage therapy career options? Maybe you're not satisfied with your current career but feel stuck for lack of options. Maybe you want to help others. Maybe you wish to provide healing and peace to...
Read More...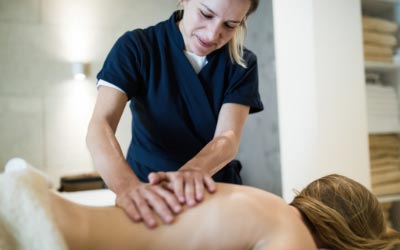 If you are passionate about the well-being of others, enrolling in a massage therapy training program will likely be a good fit for you. Massage therapy provides several career opportunities for anyone interested in the fundamentals of both health sciences and...
Read More...