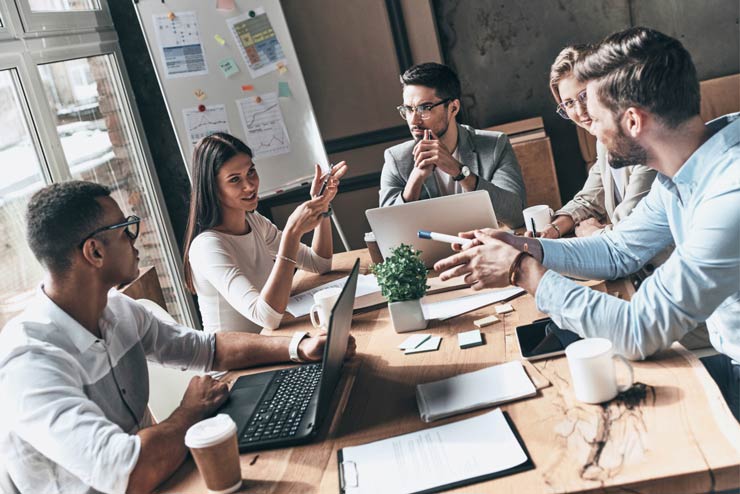 Have you been considering enrolling in business management school, but you're not sure if it's the right fit for you? Let's explore what business management school entails and what a career in this field means!
If you are looking to become a business manager, as well as a vital team member of any organization, then the first step to your future career could be enrolling in a business management school. With formal training, like in a Certificate or A.O.S. degree program, you could learn the techniques and skills you may need to pursue a career in business management.
Business managers play an important role in any company and there are a variety of business management career options you could explore. Whether you're looking to start a career in banking, business operations, finance, sales, or customer service, you can start your journey by finding a training program that fits your professional goals! Keep reading to see if business management school is right for you and to learn about how you can train to become a successful business manager!
What is Business Management?
Before you decide if business management school is right for you, it is important to first understand what business management entails. A career as a business manager typically requires an understanding of the market in which you work, so that you can help your organization reach its desired goals. Business managers must be able to think analytically, strategically, and have the ability to problem solve in a creative manner.
It is also important that business managers display proper communication skills through both written and verbal platforms. Being organized, showing attention to detail, and displaying a strong work ethic will work in your favor when training towards a business management career. You could learn how to apply all of these skills in business management school.
What You Could Expect from Business Management School
As part of your business administration training, you can expect to learn a number of different skills, and gain a variety of knowledge across many areas. Typically, you will learn how to perform budget analysis, forecasting, marketing, and bookkeeping. Business management and business administration training also includes learning and understanding the latest computer technologies in an effort to enhance your job productivity. The more you learn in training, the more efficient you could be at your job in the future!
Another important part of training is being able to perform market research. This skill will help you understand the market you are trying to reach by getting to know your consumers. A proper understanding of your market allows you to play a role in helping your company make the right decisions.
By enrolling in business management school you could learn all of these skills, and more, to start a successful career.
What Are Some Possible Business Management Career Options?
One major advantage to becoming a business manager is that you could be employed in a number of different roles, in a number of different industries! Banking, customer service, and finance and sales are just some of the possible business management career options you could have.
Other career options include working as a budget analyst or forecaster, which would involve helping companies plan for budgeting and future company growth. A marketing career is also possible with business administration training. You could be involved with advertising and promoting programs to generate interest for different products or services in your company.
Another important career option that your business management training could prepare you for is bookkeeping. Working as a bookkeeper means you could be in charge of the recording of all transactions and financial statements at your organization. If you are ready to enroll in a business management school to begin one of these careers, consider Mildred Elley!
Business Management Programs at Mildred Elley
If you have been asking yourself "Are there business management schools near me?", we offer variations of our Business Management program at all three of our convenient campus locations in Albany, New York City, and Pittsfield, MA.
The business management training program at Mildred Elley is designed to provide students with an education that places emphasis on contemporary business knowledge. We offer the following Business Management programs:
As a student in our Business Management programs, you would be able to find yourself in classes like business organization and management, business law, marketing, and so much more! We are committed to providing students with a quality higher education experience that helps prepare students for a career in business.