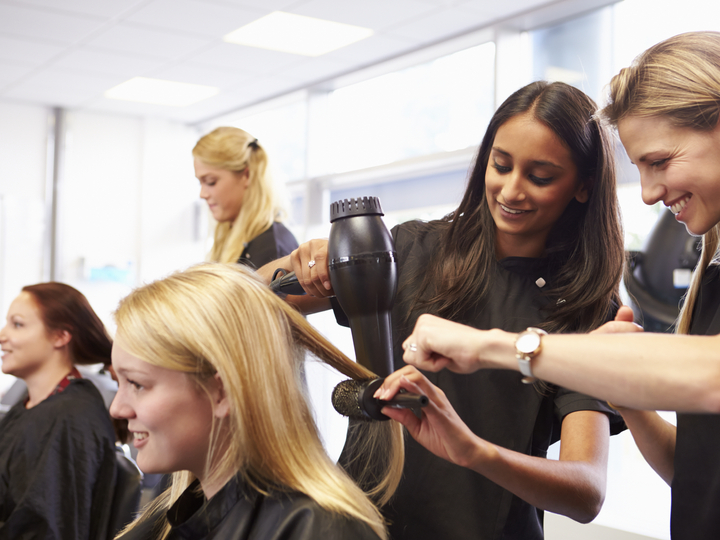 Considering a Cosmetology Career?
Have you ever wanted to help others look and feel their best? You have the ability to do so with your creative talents. Why not build your own cosmetology brand around your interests? Whether that's enjoy styling in a specific industry such as wedding hair, or becoming a color specialist, the opportunity is yours! Pursuing a cosmetology career is full of promise and opportunity, as the demand for beauty professionals is rapidly growing. Upon training and receiving your cosmetology license you can experience many rewarding career perks. Check them out below:
1.) The Growing Demand For Cosmetology Career Options
According to the Bureau of Labor Statistics, the job outlook for cosmetology professionals is doubled compared to other industries (1). This means your valuable beatuy-based skill set is needed more than ever to fill the employment gap! By attending a cosmetology school or beauty school, you could learn a range of services such as:
Styling and cutting hair
Training to become a color specialist
How to provide skin care treatments
Performing services as a makeup artist
Nail technician training
How to properly clean and disinfect tools
How to handle payments and engage with clients on a professional level
Do these tasks sound exciting? Let your inner passion for cosmetology shine! In order to do what you love, working as a cosmetologist requires training in a state approved program. Depending on your state there are licensing requirements that must be fulfilled. Some state requirements include working under a cosmetology educator and fulfilling a set minimum of training hours. After completing your cosmetology program, you will have the opportunity to take the cosmetology licensing exam. The test includes a written portion, and in some cases, a practical test of styling skills or an oral exam (2). You could have the opportunity to learn these skills during your training at cosmetology school, so why not get started?
2.) Flexibility
Due to the various locations and work enviornments you may find yourself working in, pursuing a career in cosmetology offers ultimate flexibility. Depending on your specialty, you may work in a barbershop or salon, although some people work in a spa, hotel, or resort. Full time and part time schedules are common and in this exciting field of beauty, no two days will look the same!
Ready to make a change? Take the first step!
Ready to explore a career in a growing field? Your future in massage therapy is waiting

3.) Job Satisfaction
As a cosmetologist, you have the rare opportunity to directly impact the confidence and aesthetics of your clients. The satisfaction of helping your clients look and feel their best are what make a cosmetology career worthwhile. In a cosmetology training program or beauty school, you will have exposure in learning cutting edge trends to style your clients. Being able to recommend styles and treatments is a helpful tool when helping your clients choose new hairstyles. Your clients will appreciate your knowledge and insight, giving you a very rewarding feeling! Through a variety of services and creativity you get to use, a cosmetology career is like no other!
4.) Become an Entrepreneur & Grow Clientele
The advantages of becoming a cosmetologist are most notable because of the opportunity to become an entrepreneur and grow your own clientele. As you gain more experience, you may wonder what's next? Many cosmetologists decide to become self-employed to take their careers to the next level. Those who are self-employed will also have the flexibility to make your own schedule and create the kind of environment you desire. Other advantages include:
Learning how to utilize social media platforms
Building a unique business brand
Growing clientele locally and nationally through marketing
Staying on top of cutting edge trends through classes
Networking opportunities through clients
Are you looking for the opportunity to let your creative talent shine? Explore a cosmetology career and you could benefit from many perks. Learn more!
Affordable Hands-on-training at Mildred Elley
The Mildred Elley Cosmetology program is a great way to gain the hands on experience and qualifications you need to begin a cosmetology career at a quick pace. Our Pittsfield, MA campus provides a competitive advantage, offering classes that are on trend and offer industry training in our cosmetology clinic. Because our curriculum is student-centric, you will be exposed to real clients through our salon and spa while receiving feedback from our licensed instructors.
When you complete your cosmetology training at Mildred Elley, you will be entering a community held to a high academic standard. Mildred Elley is licensed to operate as a Cosmetology school and the Cosmetology program is approved by the Board of Registration of Cosmetologists of the Commonwealth of Massachusetts.. The hours of training you will receive from the cosmetology program are equivalent to the 1,000 clock hours of instruction that is required for the State Board of Cosmetology in MA examination. When you earn your cosmetology certificate, you can feel assured about your earning potential as the state of Massachusetts currently ranks in the top 5 for paying Cosmetologists (approximately $22/hr) (3).
Worried about conflicts of schedule and family obligations? Our program at Mildred Elley offers flexible cosmetology classes so you can work around your schedule. In fact, our program is designed with you in mind, with the opportunity to earn your certificate in as little as one year for those wanting a fast track to completion (while most programs take a year or more to complete). By working under our experienced cosmetologists in our salon, you will be equipped with the skills needed to work under someone else or become your own boss as an entrepreneur someday.
Pursue Your Passion for Beauty and Learn More About the Mildred Elley Cosmetology Training Program Here!