The Cosmetology Certificate program in Pittsfield, MA allows students to embrace their creativity and prepare for a potential career in the world of beauty.
Cosmetology Classes | Certificate Program in Pittsfield, MA
Are you passionate about all things beauty? Do you have a natural talent for making people feel beautiful in their own skin? If you answered "Yes!" and are interested in cosmetology schools in MA, then cosmetology classes at Mildred Elley could be your first step towards a beautiful career! At Mildred Elley's Pittsfield campus, our cosmetology classes are designed to help students develop the knowledge, technique, and skills they need to succeed!
Our experienced instructors are there to provide you with the tips and tricks you need to get the most out of your program. By successfully completing the program, you could graduate with a certificate and become eligible to register for the Board licensure exam to potentially achieve your cosmetology license. Turn your passion into a rewarding career through cosmetology classes!
Embrace Your Creativity in Our Cosmetology Classes
Students are required to complete a minimum of 1,000 hours in order to be eligible to register for the Board licensure examination in Massachusetts. Our program is designed to help prepare you for this examination and for the daily responsibilities and cosmetologist duties you could encounter on the job. Our curriculum gives you the opportunity to embrace your creativity while also building a strong foundation for your potential career path in the world of beauty! Our Cosmetology classes also include training in:
Manicuring
Hair straightening
Permanent waving
Shampooing
Curling
Skincare
Facial grooming
Wig instruction
Scalp treatments
Dyes and bleaching
Haircutting
Hygiene and sterilization
Applied sciences
Business practices
and more…!
This program could give you the opportunity to learn in an engaging environment from knowledgeable instructors who know the tricks of the trade. We provide this experience through hands-on training at our student clinic, Mirror Images Spa and Salon! At this location, you could practice techniques learned in the classroom on real clients. This type of training could give you real-world experience, prepare you for the unexpected, and help you hone your current skill set.
Ready to make a change? Take the first step!
Requesting information requires no obligation or commitments.

Cosmetologist Duties | Your Day-to-Day Routine
A cosmetologist has a broad range of duties included in their job description! These skilled professionals provide hair and beauty services to enhance their client's appearance and potentially boost their confidence. Typical cosmetologist duties include cutting and styling the client's hair, recommending professional hair care products to fit their individual needs, providing scalp and facial treatments, as well as makeup analysis1. Many of these duties require you to stand on your feet all day, so physical stamina is important in a cosmetology career2!
Where Do Cosmetologists Work?
A career in cosmetology could offer you a variety of work opportunities depending on what you are looking for. As a cosmetologist, you could work in a salon or you could be your own boss through self-employment! Cosmetologists also work in resorts, spas, and hotels where their services are required3. According to the Bureau of Labor Statistics, employment of barbers, hairstylists, and cosmetologists is projected to grow 19 percent from 2020 to 2030, much faster than the average for all occupations4. This field is great for those looking for a fun, yet rewarding job that could bring beauty into the lives of others!
Begin Training in Mildred Elley's Cosmetology Classes!
If you are looking for cosmetology schools in MA, then Mildred Elley's Cosmetology program in Pittsfield, MA could be the right place for you! Those who have their high school diploma could begin classes upon acceptance at a Mildred Elley campus in Massachusetts. We offer Cosmetology classes at our Pittsfield campus where you can hone your craft and grow your gift. At Mildred Elley, you could receive the hands-on training and instruction you need to embrace a beautiful future in cosmetology. Are you ready to bring beauty to the world around you? Apply for Cosmetology classes today and go from making plans to accomplishing them!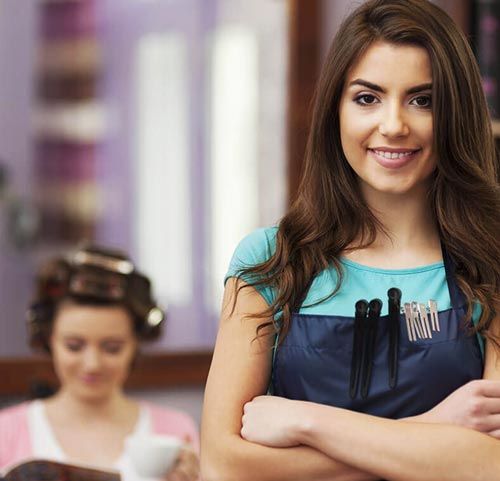 Autumn Leon
Class of 2014
"I always wanted to be a Cosmetologist and Mildred Elley guided me along the way. Working on hair and doing everything that I love is fun. I have a career now and I'm only 20 years old."
Cosmetology Program Benefits
Attending Mildred Elley means you not only receive a quality higher education experience, but it also means you get access to the most advanced job training available. Mildred Elley also offers many different benefits for program students.
Financial Aid & Scholarships for Those Who Qualify
Lifetime Job Placement Assistance
Flexible School Schedule
Free Career Assessment
ACCREDITATION
For a list of our program accreditations, please visit here.
LIFETIME JOB PLACEMENT ASSISTANCE
After completeing Mildred Elley's cosmetology classes and receiving your certificate, enjoy our lifetime job placement assistance. Our hopes are to see YOU pursue a rewarding career in the world of beauty!
Sources:
GOT QUESTIONS?
If you're ready to start your career in cosmetology, CONTACT US now to begin your training!