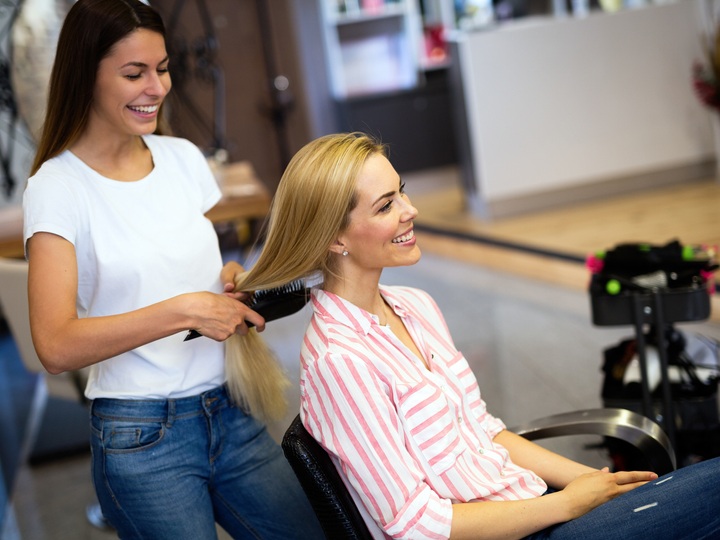 If you are passionate about doing hair, why not take your passion to a professional level? Pursuing a career in cosmetology could open many doors to express yourself artistically, while making others happy. Why not do what you love on a daily basis and get paid for it? If you haven't already started, it's probably because you are hesitant about the salary potential, or you are unsure of the time it would take for training. So you may be thinking, is cosmetology school worth it in Massachusetts? Read on as we dive into whether you should pursue your dream to become a cosmetologist!
An Earning Potential You Could Look Forward to in Massachusetts | Cosmetologist Salary
According to the Bureau of Labor Statistics, in May 2020, the median hourly wage for cosmetologists in Massachusetts was $22.26, making it one of the top paying states for cosmetology professionals (1). Mastering your skill set during cosmetology school could allow you to provide high-quality work and great customer service to your clients. Since extra money usually comes through tips, your interpersonal and customer service skills could allow you to receive greater tip totals, and increase your earning potential (2)!
The demand for hair coloring, hair straightening, and other advanced hair treatment has risen in recent years (3). This demand is a trend that is expected to continue over the coming decade. So much so that, the employment of cosmetologists is projected to grow 19 percent from 2020 to 2030, which is faster than the average for all occupations (4).
As you gain more experience, your value as a cosmetologist can grow as well! A Cosmetology school can help build the foundation that you need to start working.
Becoming a Cosmetologist Can Give You the Power to Decide Your Work Setting and Schedule
A career in cosmetology could give you the ability and options to choose where and when you want to work. You may be able to travel to different locations to meet with your clientele. You could also have the opportunity to build and choose your own schedule! The beauty of this career is that you determine how far you are willing to travel, and how much you would like to work without being tied down to a 9 to 5 routine.
Choose a Work Setting That Interests You
Cosmetologists are versatile in the sense that there are a variety of different work environments you can choose from. You could choose to work in a barbershop, salons, spas, hotels or resorts. You can pick to lease booth space from a salon owner or open up your own shop! (5)
Just make sure that in any work setting you do choose – you have good lighting!
You Could Work as Little or as Much as You Want
If you become a cosmetologist, you can have the ability to be your own boss if that is what you want! Many cosmetologists choose to work part-time at a salon and have their spare time be freelance work, where they go to their clients. This means you can make your schedule and still have time to do other things as well! Including expanding your skill set by attending additional cosmetology training and courses at the same time. You could even do freelance work as a full-time job and fully be in control of your schedule! Over time, you can have the opportunity to build your own clientele and have a solid foundation.
If you finish cosmetology school, you will see that part of the beauty of being a cosmetologist is that when you provide great service, you could earn repeat business. Think about it, do you go to a different hairstylist every time you do your hair? Or do you have your trusted stylist that you repeatedly go to who knows how to handle your hair with care? Most people go to a specific stylist, and that is something you can strive to look forward to for your future!
Ready to make a change? Take the first step!
Requesting information requires no obligation or commitments.

You Can Make a Difference as a Cosmetologist
Ever leave a hair salon feeling brand new after a haircut or new highlights? If so, you can thank your stylist for that! The beauty is in the details and craftsmanship from your personal cosmetologist. Seeing a happy client is a rewarding feeling that you can have each time you go to work. With clients raving about your masterpiece and hardwork, this rewarding feeling could become normal in your day-to-day work!
Having a career where you can transform the look of your client and help your client look happy and confident makes the beauty industry worthwhile. Even more so, you could have the opportunity to work with many clients and help them get ready for special occasions and significant milestones in their life. Like assisting clients with getting hair or makeup done for birthdays, graduations, job interviews, weddings, and so much more!
Working in cosmetology can be an uplifting career path because you have the power to help clients look and feel their best! So here comes the real question that you may be thinking: How long is cosmetology school and how to become a cosmetologist?
You Could Begin and Finish Cosmetology School in as Little as a Year
In order to become a licensed cosmetologist, luckily you won't have to go to a two or four-year college. So how long is cosmetology school? Each state has different requirements that you'll need to meet, but you read the header correctly, you can finish cosmetology school in as little as a year! This is great if you want to be on your way with your new career sooner rather than later!
Ready to Begin Cosmetology School in Massachusetts? Prepare for Your Future as a Cosmetologist at Mildred Elley!
How to Become a Cosmetologist? 
The Mildred Elley Cosmetology program prepares its graduates for successful completion of the Commonwealth of Massachusetts Cosmetology licensing examination. Our cosmetology training program provides you training that is equivalent to 1000 clock hours of instruction required for the State Board of Cosmetology in MA examination (6).
Get hands-on practice and training in all areas of cosmetology needed for licensing by the State Board of Cosmetology, including waving, shampooing, marcelling and all iron curls, skin care, facial grooming, dyes and bleaching, hair cutting, hygiene and sterilization, anatomy, physiology, business practices, and more (7). As a cosmetology student at Mildred Elley, you can have the opportunity to work under experienced cosmetologists making your classes enjoyable with hands-on learning while expanding your skill set.
At Mildred Elley, we offer flexible classes for you to work them around your obligations, work schedule, and family. We understand that your life may be busy! So, we facilitate our course load to help you attain your goals of becoming a professional cosmetologist. Training with Mildred Elley could give you the opportunity of turning your dreams into reality. Why wait any longer? Take the first step in your cosmetology career and learn how you can get started today!