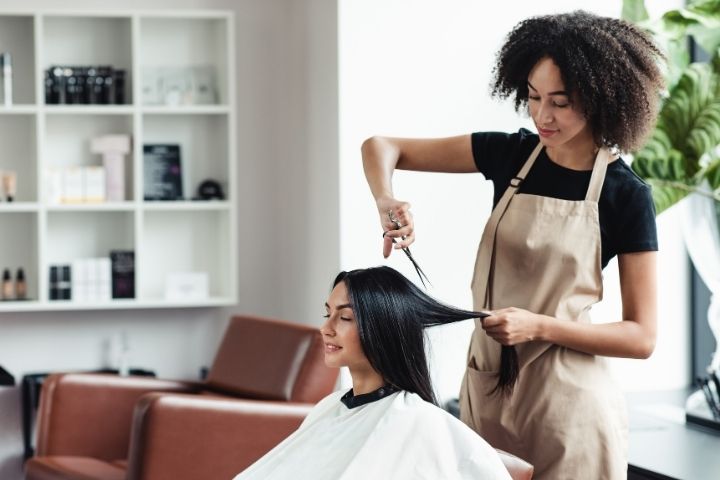 The beauty industry is full of passionate professionals who help clients look and feel their best. If you are excited by the world of cutting hair, coloring hair, and skincare, then it could be time to get your cosmetology certificate. Cosmetology schools were formally referred to as beauty schools or hair stylist schools. By enrolling in a cosmetology school, you could be one step closer to an exciting career in the beauty industry.
Take the first step toward a beautiful future at Mildred Elley!
Learn New Techniques and Latest Trends in Beauty
The beauty industry is constantly changing. By receiving a cosmetology certificate from a Cosmetology school (formerly known as a beauty school or hair stylist school,) you could learn new techniques to stay on top of this ever-changing field.
Cosmetology school requirements include a wide range of courses, including:
Skincare
Haircutting
Manicuring
Hair straightening
Permanent waving
Shampooing
Curling
And more!
Earning a cosmetology certificate could help you expand these skills, and take on the industry with confidence!
Hone Your Customer Service Skills
To gain a loyal list of clients, you may need to work on your communication and customer service skills. This can be accomplished in a cosmetology program, which used to be called a hair stylist school.
Earning a cosmetology certificate could help you build a solid foundation of customer service skills. Your confidence and knowledge in the world of beauty could help clients feel comfortable and excited to be in your chair!
Master a Range of Skills
When it comes to answering 'what does a cosmetologist do?' the answers may vary! The beauty industry is diverse, and cosmetology school requirements could help expand your skills to match.
By enrolling in a cosmetology certificate program, you could develop crucial abilities, such as how to:
Inspect and analyze hair, skin, and scalp to recommend treatment
Wash, color, lighten, and condition hair
Chemically change hair textures
Cut, dry, and style hair

1
Earning a cosmetology certificate could give you more than just a cosmetology background. It could be the first step toward becoming a confident and diversely skilled beauty professional!
Take the First Step Toward Becoming a State Licensed Cosmetologist
All states require barbers, hairstylists, and cosmetologists to be licensed2. You may be wondering how to get a cosmetology license. Earning a cosmetology certificate could give you the cosmetology background to sit for the State Board of Cosmetology Licensing Exam.
Requirements vary by state. Students in Massachusetts are required to complete a minimum of 1,000 hours to register for the Board licensure examination. Be sure to check the requirements in your state!
Gain Access to a Quality Education Experience
If you have your heart set on a career in the beauty industry, then it's time to focus on the training to get you there. By searching for 'cosmetology classes near me' you can begin your application process to help reach your goals.
Earning your cosmetology certificate from a licensed education program could help prepare you for cosmetologist duties you could encounter on the job.
Earning your cosmetology certificate from Mildred Elley could be a great opportunity to begin a rewarding future in the beauty industry. We offer cosmetology training at our Pittsfield, MA location for local students looking to turn their beautiful dreams into a reality!
We provide this experience through hands-on training at our student clinic, Mirror Images Spa and Salon! Mildred Elley gives students the opportunity to practice techniques learned in the classroom on real clients. Our Cosmetology Certificate program is designed to provide students with real-world experience to expand their current skill set.
We're ready to help you take on the beauty industry. Are you?
Explore your passion for the beauty industry at Mildred Elley
---
Sources: