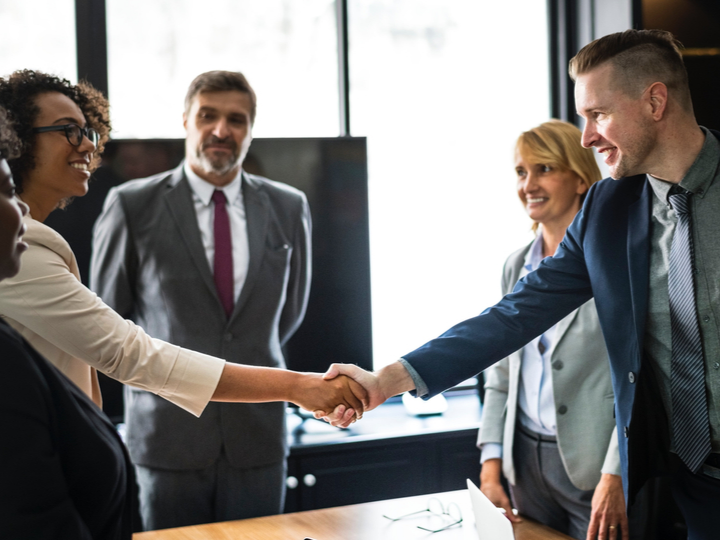 If you are asking yourself "Why should I major in business management?", we are here to asnwer your question!
As job prospects shift due to the changing economy and technological innovation, one thing is for sure: employers are looking to hire people with tangible and transferable skills and leadership experience. If you've been thinking of ways to develop and grow into a desirable career field that is needed in various sectors, a degree in business management can help you get there! Expanding your career outlook with a degree in business management could give you the opportunity to excel in ways other career fields wouldn't.
A career in business is versatile, and no matter your future career goals – there is a likely business field for you! There are many reasons why you should major in Business management, but here are the top three reasons:
So… Why Should I Major in Business Management?
Expanding Job Market
According to the Bureau of Labor Statistics, there are approximately 807,300 new jobs that will become available in the workforce between 2016 to 2026 within the management field (1). With a changing economy and the added layer of globalization, the need for individuals who have experience in market research and interpersonal skills is on the rise. A degree in business management could help you gain the valuable skills needed to enter our ever-changing economy and job market.
Various Career Paths
A career in business has advantageous job incentives, and there are several career paths that a business degree can make prepare you for. It's also important to know there are different jobs that best fit your interests and skills. Whether that be administrative, in the nonprofit sector, or one-on-one as a financial advisor, there is something for everyone. A few of the top jobs that are well suited for business majors are:
Bookkeepers: Responsible for some or all of an organization's accounts. Some duties include creating financial statements and also writing reports for managers and supervisors as needed. Bookkeepers are integral to any organization due to the numerous transactions and clients they engage with. In 2017, the average salary for bookkeepers was $39,000 (1).
Business Technology Specialist: Sometimes referred to as computer support specialists, duties include providing technical support to users within and outside of the company while helping staff learn new tools, programs, and systems on the computer. In 2017, the average salary for business technology specialists was $52,810 (2).
Administrative Assistant: Essential to every organization to keep the day-to-day functions running smooth are administrative assistants. Some duties of admins include organizing files, preparing documents, scheduling appointments, and supporting other staff. In 2017, the average salary for administrative assistants was $38,000 (3).
Earning potential
The median annual wage for business and financial occupations was $67,710 in May 2017, which was higher than the median annual wage for all occupations of $37,690 (4). Although entry level positions may not start out in the highest earning percentile, with a strong educational background and consistent growth in your field, the earning potential for any business related job is significantly higher than most.
Ready to make a change? Take the first step!
Ready to explore a career in a growing field? Your future in massage therapy is waiting

We know that our students come from various demographics with different responsibilities outside of the classroom. At Mildred Elley, we see you as more than just a student—you are a professional in training. Whether you are a single parent, trying to balance home-work life, or have been out of school for a while, Mildred Elley offers a full range of vocational programs that provide short-term training. Our business degree, business training programs, and certificates provide students with the knowledge and skills needed for employment after graduation. Obtaining your Business Management Degree at Mildred Elley is accessible, affordable, and flexible!
Business Management Degree Overview
Our programs seek to equip students for successful careers in banking, finance and sales, customer service, and many other for-profit, non-profit, and government jobs. Students at Mildred Elley have the opportunity to receive training in the latest computer technologies to enhance their digital literacy skills. These skills make for a highly marketable and competitive edge in the business field. Since businesses rely heavily on the insight of a business manager to make the right decisions, our classes outline the importance of analytical thinking, proper communication skills through both written and oral instruction, and creative problem solving.
Our business courses are currently offered in Albany, NY, Pittsfield, MA, and New York City. Business students will also have an opportunity to specialize in an area of interest by taking coursework like, Business Organization & Management, Customer Service & Sales Management, Principles of Digital Literacy, Document Processing, and Spreadsheet & Database Applications to name a few.
Office, Project and Event Management AOS Program
Our Albany campus offers an additional management degree "Office, Project and Event Management AOS". In this program, students receive advanced training in professional office management, Microsoft Office Suite computer applications (such as word processing, presentation graphics, spreadsheets and databases), special event planning and management and the fundamental principles of project management. If you want to gain specific training in event planning management, while still gaining the administrative knowledge of a business degree, then this may be the right program for you!
Business Management Certificates:
Accounting Systems Specialist Certificate
The Accounting System Specialist program is offered at our Albany and Pittsfield locations. Students in these programs will learn the principles of financial and managerial accounting, computerized accounting and software applications used to record and analyze financial information and transactions.
Business Technologies Specialist Certificate
Did you know the demand of business technology specialists are just as important as web developers and software engineers? For all of you tech-savy individuals, our program not only prepares you for the competitive job market, it will give you the skills needed to thrive in the business world where computers and innovative technology skills are needed due to the increased productivity in today's society. Offered at our Albany and Pittsfield locations, the Business Technologies Specialist program is designed to include information processing theory and the hands-on use of software applications, such as MS Excel, MS, Word, MS Access, and the rest of the Microsoft Office Suite.
The Business Technologies Specialist program also provides a core of theoretical knowledge and applied skills in general business management, general education and higher education success, career and employment preparation. Getting your business degree or business certificate doesn't have to be hard. When you attend Mildred Elley, our flexible schedules and specialized programs will give you the advanced job training and skills you need to have the career you desire.
Above, we have listed all of the answers to your question, "why should I major in business management?" There is no better time than now to study and major in bussiness management!