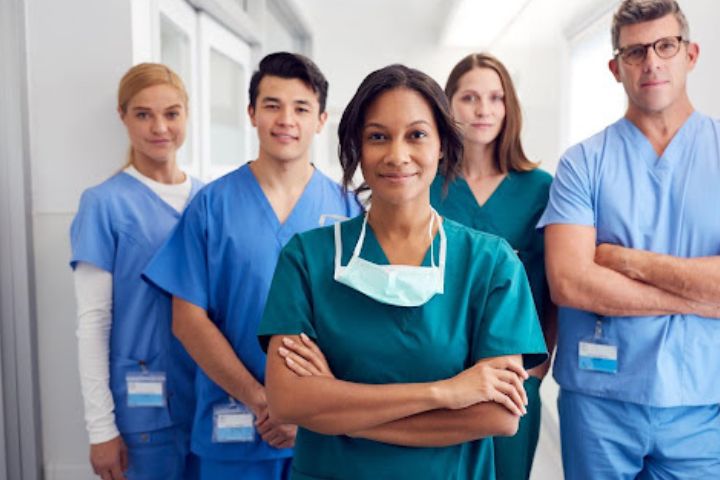 In hospitals, nursing homes, clinics, and other healthcare settings, Licensed Practical Nurses (LPN's)  offer basic care and assistance to patients. They are responsible for providing basic bedside care, such as aiding patients with meals, medication administration, wound care, and minor medical requirements, as well as personal hygiene.
Because LPN certification may be achieved in a year  from the start of formal LPN Classes, being an LPN is a popular method to begin the field of nursing. This is a wonderful choice for those who want to work in health care as entry-level employees without the financial commitment of a four-year degree.
Take the first step in your career journey today!
What Is A Licensed Practical Nurse (LPN) Program?
Licensed Practical Nurse programs are meant to educate students with the theoretical and licensed practical nurse education knowledge needed to conduct basic nursing activities. Anatomy and physiology, pathophysiology, pharmacology, nutrition, early childhood development, medical terminology, clinical laboratory methods, infection control protocols, and other topics are usually covered in a practical nursing course. LPN training programs provide students with the educational foundation for preparing to take the NCLEX-PN (National Council Licensure Examination for Practical Nurses) and become licensed.
Licensed Practical Nurses provide essential care to patients/clients/residents under the supervision of a healthcare professional. They work closely with the healthcare team to administer medication, take vital signs, assist with meals, provide wound care, and provide nursing care to the population they are working with. LPNs (Licensed Practical Nurse) demonstrate effective therapeutic communication to provide care to their patients.
LPNs work in a healthcare environment under the direction of a doctor or licensed nurse and offer basic medical treatment. Practical nurse duties could include checking blood pressure and vital signs, clothing patients, aiding with bathing, taking blood samples, and keeping records. There are many opportunities for LPNs to work in acute care facilities; long term care facilities ,clinics, medical offices, schools and group homes dependent upon which state and neighborhood you reside in. LPNs are a vital part of the healthcare team, and many individuals also choose to continue their education to become Registered Nurses and/or advanced care providers.
There are many flexible shifts and opportunities for Practical Nurses to work. These shifts can vary between 4-12 hours depending on the employment. There are many opportunities to workdays, evenings, or nights during the week and on weekends. Being an LPN includes transferring patients and providing direct care which can be physically demanding. The Practical Nurse follows infection control policies and procedures to decrease the risk of contracting a contagious disease. The role of the Practical Nurse can be stressful and physically demanding but the rewards of being a Practical Nurse are many.
LPN Program Curriculum
The practical nursing courses are  demanding and fast-paced. Students must be able to critically think and learn information in a brief time. Aside from classroom instruction, the  programs include hands-on learning activities in the skills lab and clinical rotations with an instructor that allow students to put what they've learned into practice. Licensed Practical Nurse Programs consist of courses such as anatomy and physiology, medical terminology, and pharmacology in addition to the Nursing Care courses covering all stages of the lifespan.
The LPN (Licensed Practical Nurse) Programs provide the education to prepare the nursing student to become a safe practitioner and be successful on the National Licensure exam for LPNS,the NCLEX (National Council Licensure Examination) –PN.
 The following topics are usually covered in depth in LPN programs:
 #1 Anatomy And Physiology
Students learn about human body systems and organ structures, such as motor skills (e.g., how to move limbs), sensory functions (e.g., how to perceive light, sound, and smell), respiratory functions (e.g., how to breathe), circulatory functions (e.g., how to circulate blood around the body), and endocrine systems (e.g., hormones).
#2 Patient Evaluation
Students in the LPN program collect data on a patient and review it with the healthcare time to develop a plan of care for the patient. The data collection includes the physical, social, and spiritual areas of the patient's condition.
#3 Controlling Infections
In the Practical Nursing or Nurse classroom and the workplace, students learn about infection control concepts and how to apply them.  Students learn to follow infection control policies and procedures to decrease the risk of infection and cross contamination. This includes the handling of supplies and equipment.
#4 Food Safety and Nutrition
Practical Nursing students are educated in nutrition and specific diets for medical conditions. They also learn the cultural and religious beliefs regarding nutrition and how it effects the patient's care. They provide information on diet and food safety to assist patients with their diets.
Is There A List Of Requirements?
Yes, in general. Because most practical nurse training is provided at community colleges, trade schools, and technical institutions, you must first fulfill the school's admission standards. This varies per school, but you will always need a high school diploma or a GED to attend. You also would be required to take a Test of Essential Academic Skills (TEAS) – a diagnostic test that students take as they go through the admissions process. The TEAS test shows a reliable picture of student preparedness for nursing school and provides valuable insights into a potential student's academic strengths and weaknesses.
Additional requirements for your practical nurse education program may exist. You might need to have done high school biology or a certain amount of math classes, for example. If you did not take these subjects in high school, you may need to complete them at your current school before applying to the LPN program.
Are There Any Online Programs?
Your training can have a number of classes in an online format. However, you will need to learn in person for a portion of your education. You must receive experience in the form of hands-on clinical hours as one of many requirements to obtain your LPN license. These will have to be completed at a local hospital, nursing home, or other clinical facility. Your program and state will determine the precise number of hours you require.
In most cases, this implies that you can potentially take your traditional classroom courses online – you will have to speak to an admissions representative at your school of choice to find out the specifics. Your clinical hours will subsequently be assigned to you by your program. For example, you might be able to study anatomy and physiology entirely online but to complete your nursing course requirements, you will need to complete in-person hours in a local healthcare center. Mildred Elley happens to be one of the best institutes to suit all these requirements.
Summing Up
After you have completed your program which includes clinical hours , you will need to pass the NCLEX-PN (National Council Licensure Examination for Practical Nurses) and become licensed. Take the next step and contact Mildred Elley if this material has piqued your interest in pursuing this career. Now, more than ever, your abilities and compassion are needed!