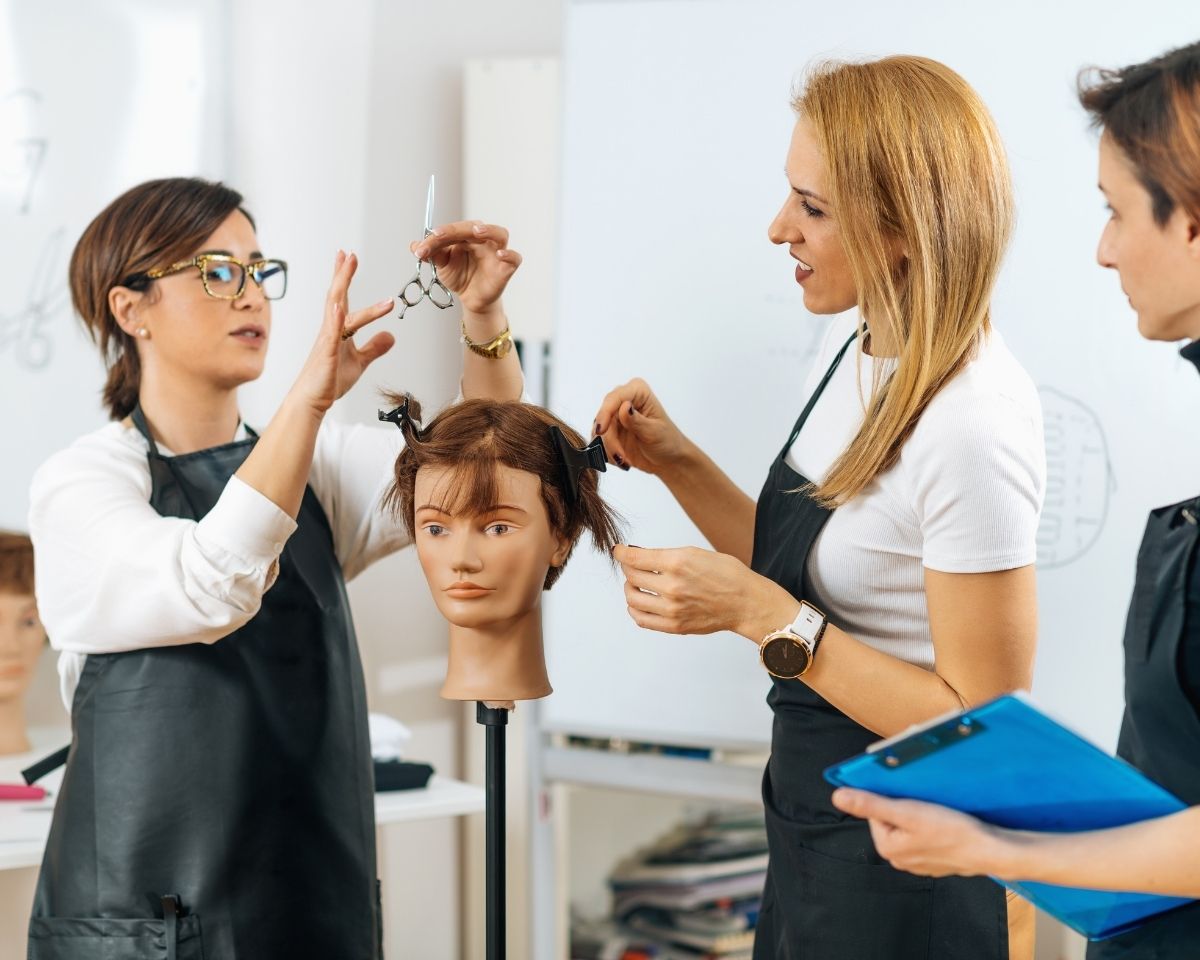 Do you have a passion for hairstyling, skincare and beauty? Are you interested in a career in cosmetology but wonder, "What do you learn in cosmetology school?" Pursuing a career in cosmetology can be rewarding and a great way to hone your creative skills! Cosmetology classes are designed to prepare you for all aspects of a cosmetology career including skin care, hairstyling, nail services, and more! 
  Take the first step in your career journey today!
What you can learn in cosmetology school
Cosmetology classes provide hands-on learning, so you can receive real-world experience for a career in cosmetology. Enrolling in beauty school could play a crucial role in your success and help prepare you for licensure. If you are ready to pursue this exciting career, continue reading to discover how cosmetology classes could let you even be your own boss!
1.Hair cutting, styling, and coloring
Aspiring cosmetologists are trained to provide scalp and hair treatments in order to help clients look and feel their best.1Skills cosmetology classes cover could include learning how to cut and style hair, communicate expectations with the client, and provide a conditioning treatment and so much more. Cosmetology classes cover foundational aspects of hair cutting, styling techniques, and coloring or chemical treatments.2

Beauty school students are trained on how to recognize the needs of every hair type so each client can receive the best care possible. Cosmetology programs also cover how to recommend the right products for clients and educate clients on their hair health.(3) After graduating from cosmetology classes, you could know how to nourish your clients hair and become salon ready. 
2.Nail Service
There is nothing like going to the nail salon and getting a fresh manicure. You feel rejuvenated, beautiful, and able to take on the day. Through cosmetology classes, aspiring cosmetologists learn how to provide this amazing feeling for their clients through quality nail services. Cosmetology classes cover common nail services such as manicures, pedicures, acrylic tips, gel polish, nail repair and more! Cosmetology classes also help students provide quality nail care and the opportunity to express their artistry. If you enjoy doing nails and creating beautiful designs, it may be time to enroll in one of your local cosmetology programs.
3.Skin care
Are you passionate about skin care? Do you practice a skin care regimen? Through cosmetology classes, students could also learn skin care analysis and how to tailor the perfect products for each skin type, including facials.1Facial treatments and skin care procedures are designed to improve the overall appearance of a client's skin, leaving them feeling radiant. If you go to beauty school, you could learn how to give facials and other skin care treatments on real clients. Students also receive training on educating clients on a good skin care regimen as well as products they could use at home. By taking cosmetology classes, you could pamper and empower your clients.
4.Beauty 
Do you love cosmetics? Are you looking for a creative outlet that could blossom into a career? Students in cosmetology classes are able to tap into their creative abilities by learning makeup applications in a hands-on environment. Cosmetology programs cover industry current makeup techniques and trends, so students can offer clients the best services available.2

Where can you work after graduating from a cosmetology program?
For those wanting to enter the beauty industry, there are many exciting career options to choose from, including becoming your own boss! About 43% of cosmetologists are self-employed with the other 57% working in:
 Salons

 Spas

 Hotels

 Resorts

2
Graduating from beauty school and earning your cosmetology license could allow you to pursue a job in one of these locations and begin advancing in the beauty industry.3 If owning your own business is a dream of yours, many cosmetologists start their own salons or even work from home. Cosmetology classes could be the perfect foundation for your career in the beauty industry and give you the skills you need to excel.  
Career Outlook for Cosmetologists
According to the Bureau of Labor and Statistics, cosmetology jobs are projected to grow almost 20% between 2020 and 2030, with over 85,000 jobs opening each year. (4) This growth is much faster than average for all occupations and could be a great opportunity for future cosmetologists. Research shows that more and more people are seeking out beauty services for their hair, nail, and skin care needs.4

Discover a beautiful career in Cosmetology at Mildred Elley
Are you ready to go to beauty school to get the skills needed to become a licensed cosmetologist and pursue your dream? Through the Cosmetology Classes at Mildred Elley's Pittsfield,MA location you could turn your passion into a profession you love. Our industry current hairstyling and skin care courses are comprehensive and designed to prepare you for all aspects of a career in cosmetology. Students in the Mildred Elley Cosmetology programs receive traditional classroom instruction as well as hands-on learning in our student clinic to solidify their skills. If you are ready to begin your journey down the cosmetology career path, get started today! 
    Take the first step in your career journey today!
---