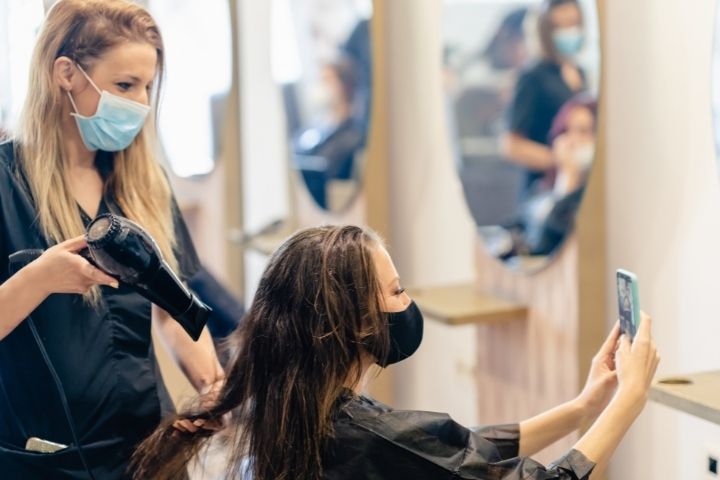 Turn your passion for all things beauty into a career that helps others look and feel their best by training to take your exam for a cosmetology license! For those looking to exercise their creativity and begin a career in the beauty industry, becoming a professional cosmetologist could be the answer! Keep reading to find out the top four benefits of pursuing a career in cosmetology.
Take the first step in your career journey today!
1. Growing Demand for Cosmetology Careers
According to the bureau of labor statistics, "the overall employment of barbers, hair stylists, and cosmetologists is projected to grow 19 percent from 2020 to 2030, much faster than the average for all occupations"¹. Your skills are needed now more than ever! By attending cosmetology or beauty school you could "brush up" on the daily tasks of a cosmetologist such as:
Inspect and analyze hair, skin, and scalp to recommend treatment
Discuss hairstyle options
Wash, color, lighten, and condition hair
Chemically change hair textures
Cut, dry, and style hair
Receive payments from clients
Clean and disinfect all tools and work areas²
With a growing industry, the job outlook for entering the cosmetology field is good!
2. Fun and Flexible Work Environment
Pursuing a career in cosmetology offers ultimate opportunities for flexibility. If you're not a 9 to 5 desk job kind of person, working in different locations with new clientele could keep the job entertaining! People who have graduated from cosmetology school and passed the exam for their cosmetology license, may find themselves working in many different places. Barber shops, salons, hotels, spas, resorts, or anywhere that provides beauty services require professional cosmetologists!
Your environment isn't the only thing that can be flexible! Scheduling is also adjustable as full and part time schedules are common in the cosmetic industry. You may only need to work certain days or times during the week depending on how many shifts you are available to take. No two days are the same!
3. Job Satisfaction
As a cosmetologist, you have the opportunity to directly impact your client's self confidence. The satisfaction of helping your clients look and feel their best is what makes a career in cosmetology meaningful.
When enrolling in a cosmetology training center or beauty school, you may learn cutting edge trends to treat your clients. Being able to recommend hair styles and treatments helps build clientele and encourages repeat customers! You could build clientele who appreciate your knowledge and seek beauty advice from you. Being a professional cosmetologist gives you the opportunity to help people feel good about themselves.
4. Train to take the exam for your Cosmetology License in as Little as One Year!
You might be asking yourself, what is needed to obtain a cosmetology license? Typically, cosmetology students have the opportunity to work with real clients in a salon and spa, where they receive feedback from instructors. 1,000 clock hours of instruction is required to take the State Board of Cosmetology in MA examination. After earning your certificate, you will be on your way to building a career doing what you love!
So, is Cosmetology a Good Career Choice?
Enrolling in the Mildred Elley Cosmetology program is a great way to gain the hands-on experience and qualifications you need to begin a cosmetology career. Our Pittsfield, MA campus provides a competitive advantage. We offer classes on the most recent trends, as well as higher level instruction in our cosmetology training center. With our student-centric curriculum, you will be exposed to real clients through our student clinic while receiving feedback from our licensed professional cosmetologists.
Mildred Elley's cosmetology program is licensed to operate as a Cosmetology school and the Cosmetology program is approved by the Board of Registration of Cosmetologists of the Commonwealth of Massachusetts. Your cosmetology education will cover a variety of skills including manicuring, hair styling, hair coloring, waxing, skin treatments, and more!
By enrolling in our Cosmetology Certificate program, students receive a higher quality education experience and have access to some of the most advanced beauty training available. Mildred Elley offers students the following benefits:
Financial Aid & Scholarships for Those Who Qualify
Lifetime Job Placement Assistance
Flexible School Schedule
Free Career Assessment
Enroll in the Cosmetology Certificate program at Mildred Elley today and take the first step to starting a new career in the world of beauty!
Learn more about Cosmetology at Mildred Elley
---
Resources