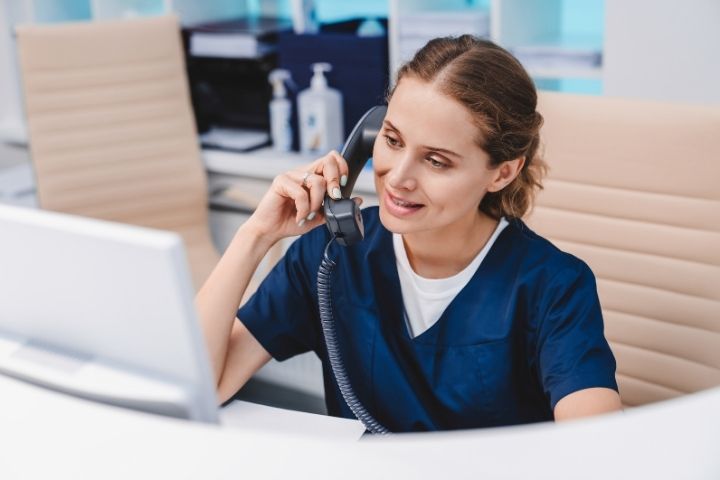 The medical field consists of many diverse positions that make providing healthcare services possible. As an aspiring medical office assistant, you could play a huge role on a medical team! Though assistants often work behind the scenes, they are crucial to keeping the office running smoothly and efficiently.
A typical medical office assistant job description could include skills such as attention to detail, communication skills, and more! It is important to establish a basis of technical skills through training for a career as a medical office assistant. You could expect to find 'knowledge of medical billing and coding,' 'medical terminology,' and 'proficiency in medical databases' on a job description as well. If you're looking to make the cut for entry-level positions in the medical field, you're going to need proper training to acquire these skills!
Enrolling in medical office assistant training could help you meet the demands of a medical office assistant job description. Training toward this career could not only teach you what to expect on the job but also what to expect when applying for the job! So if you want to fulfill a medical office assistant job description, let's dive into what you need to know!
Make an impact on the medical field | Begin training today!
What Is a Medical Office Assistant?
Before you could begin this new career or perform medical office assistant duties, it's important to ask 'what is a medical office assistant?' Certified Medical Office Assistants handle important administrative tasks that help maintain a successful medical facility.
They could also help clinics or laboratories operate smoothly through various clerical and customer service tasks. They handle the office tasks so other staff can handle crucial clinical work. From the front of the office to the back, an assistant may be found holding everything together with their attention to detail, strong communication skills, and organizational abilities.
What Does a Medical Office Assistant Do? | The Medical Office Assistant Job Description
Medical office assistants have many critical responsibilities to the function of healthcare facilities! The job description for this career could include a variety of expectations. You may expect to find scheduling patient appointments, processing bills, and payments, compiling medical records, or data entry listed.
However, each office is different. Some may have you coding medical records, checking in patients, or both! Each task is valuable and helps the office reach its goals. By choosing to attend a medical office assistant school, you could prepare for these medical office assistant duties. Most importantly, you could prepare to serve the patients needing your skills!
It could even be beneficial to find a medical office assistant training program to teach you a variety of skills to be well rounded medical office assistant, such as:
Biology
Anatomy & Physiology
Principles of Digital Literacy
Document Processing
Word Processing and Presentation Applications
Spreadsheet and Database Applications
Principles of First Aid, CPR, and AED
Medical Terminology
Medical Insurance
Medical Office Management
Completing courses in these subjects could help you ace the CMAA exam, or pursue future entry-level employment opportunities after graduation.
Overall, a medical office assistant program could help you learn firsthand the answer to 'what does a medical office assistant do?'. That is half the battle when striving to fulfill the requirements of the typical job description!
Do I Need a Certificate?
It is not uncommon for medical office assistants to have some type of post-secondary education under their belts. Most medical office assistants have a postsecondary education award such as a certificate1. This also applies to a medical office job description for medical administrative assistants and medical office assistants.
Earning your certificate could help you stand out in the hiring process and show employers you are ready for the job. Employers may even require potential hires to have graduated from a medical office assistant training program in their medical office assistant job description. Obtaining this qualification could boost your job prospects.
Furthermore, the knowledge you could gain through your courses and hands-on learning could help you pass the CMAA exam. After passing the CMAA exam, you could become a certified medical office assistant and be well on your way to achieving your career goals!
At Mildred Elley, it is our goal to prepare students with the skills and confidence to excel at all they are trained to do! Mildred Elley's certificate program is designed to help prepare students for the real world through practical application and excellent classroom learning.
Students can attend comprehensive courses at our Pittsfield, MA campus and learn the skills needed to enter and thrive in a variety of positions. After graduating, students could pursue positions such as medical administrative assistant, medical receptionist, or even medical secretary!
Completing Medical Office Assistant school at Mildred Elley could open doors for students to find work in a variety of health care settings, such as hospitals, clinics, or laboratories. To further help students reach their career goals, Mildred Elley also offers:
Financial Aid & Scholarships For Those Who Qualify
Lifetime Job Placement Assistance
Flexible School Schedule
So what are you waiting for? Enroll today and start fulfilling the requirements of a medical office assistant job description with Mildred Elley!
Your journey to your desired career begins here! | Request information
---
Sources: