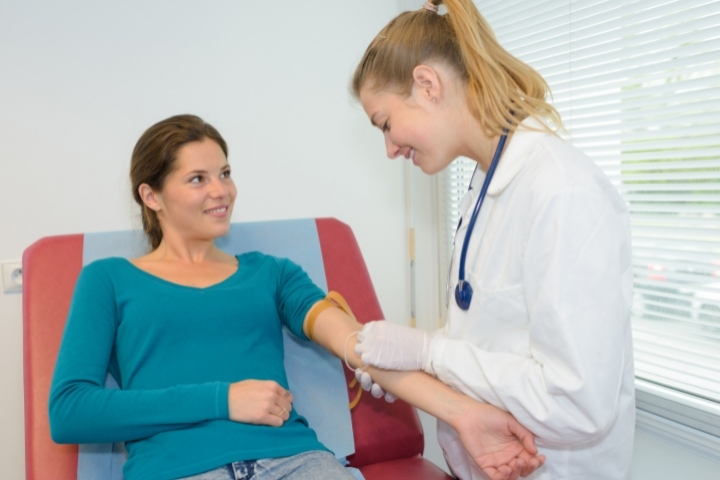 Are you  interested in pursuing phlebotomy as a career? There are many choices for those interested in a healthcare career, phlebotomy being one of them. These are trained healthcare professionals that typically work in hospitals, clinics, outpatient care facilities, diagnostic laboratories, and blood donation centers. Hospitals and clinical laboratory operations rely heavily on certified phlebotomy technicians to perform their duties well. Phlebotomists often have postsecondary training. Want to learn how to become a certified phlebotomist? It's a challenging and rewarding career choice that is waiting for you to discover! 
What do you need to become
a certified phlebotomist?
In order to become a certified phlebotomist you must complete a phlebotomy training course and pass a certification exam through one of the recognized organizations. Training to become a certified phlebotomist is a terrific method to get an entry-level job in the medical field while also learning professional healthcare skills. Most phlebotomy schools provide both in-person and online training. Students can use these courses to prepare for certification exams such as the National Association of Phlebotomy Technicians certification exam. Here is a breakdown on how to become a certified phlebotomist.
Take the first step in your career journey today!
What training is needed to become a certified phlebotomist?
You must complete a phlebotomy training program at a school that meets requirements for the state you want to work in. It's critical to choose a curriculum that complies with the specific standards of the state in which you intend to work and the specific organization you intend to obtain your certification through.
Where to get
phlebotomy training
?
These phlebotomy classes are usually available through vocational schools and community colleges and can include education in anatomy, medical terminology, and physiology. 
 Enrollment criteria might include:
GED or high school diploma

Certification in CPR

Background check

Records of vaccinations
How to get certified as a phlebotomist
In order to become a certified phlebotomist you will need to pass a certification exam. You must complete phlebotomy training that complies with the requirements of the individual organizations that you apply to take the exam through in order to be eligible. 
Where can I get a phlebotomy certification?
After completing phlebotomy training you can apply to take the exam for certification through the National Healthcare Association. There are other organizations such as the National Phlebotomy Association and American Society for Clinical Pathology (ASCP) that offer testing for certification as well.1

How long does it take to become a certified phlebotomist?
Each state and testing organization is different but in general Phlebotomy training takes around a year to complete on average, though some students might finish in less time. These programs combine classroom instruction with hands-on training. Various states have different requirements for the minimum amount of work experience required to work as a certified phlebotomy technician.  Most programs have a minimum of 40 hours of practical experience gained through hands-on training.
Do you need to be certified to be a phlebotomist? 
All states have different requirements for phlebotomists and it is important that you meet the state's requirements that you would like to work in. While only California, Louisiana, Nevada, and Washington require phlebotomists to be certified, it has been established that almost all employers would like professionals to be certified. 2

The career outlook for a phlebotomist
The good news is the demand for certified phlebotomy technicians is strong. According to the U.S. Bureau of Labor Statistics, growth in phlebotomist career options is predicted to climb by 22% over the next ten years. 2

How to become a certified phlebotomist with Mildred Elley's courses
Students who enroll at Mildred Elley have the opportunity to learn marketable healthcare skills. The career training experience at Mildred Elley is carefully designed to help ensure students get the technical skills, education, and hands-on experience they may need to become a phlebotomist.
Mildred Elley's phlebotomy training is a 105 hours split between two consecutive courses PHL-100 and PHL-200. Available at the Albany, NY campus, New York, NY campus, and Pittsfield, MA campus. After successfully completing these courses, the students are eligible to register with The National Healthcare Association for its Certified Phlebotomy Test (CPT) Exam and become certified after successfully passing the exam. Then, you'll be on your way to a new career in the healthcare field!
Take the first step in your career journey today!