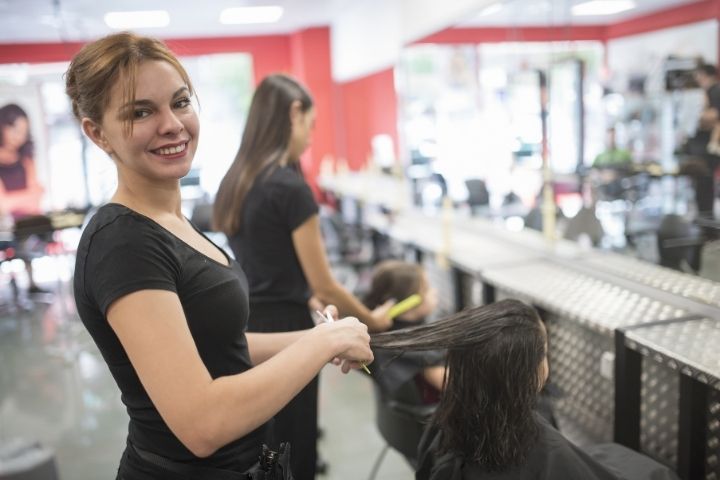 Finding the "best cosmetology programs near me" can depend on what is important to you. Whether you are looking for hands-on training, experienced instructors, or informational cosmetology courses, it is important to do your research! Every cosmetology beauty school should answer the basic question of "what do cosmetologists need to know?" through their curriculum. But what should students learn beyond the basics?
Maybe you are curious about cosmetology courses and want to learn about skincare, hair cutting and style, hair removal, and more! We have narrowed down the top 3 reasons why you should consider cosmetology beauty school, what classes do you need for cosmetology, and how to search for the best cosmetology programs near you!
Begin training toward a beautiful career at Mildred Elley!
What Do Cosmetologists Need to Know? | Valuable Skills You Could Learn
Before inquiring about cosmetology courses in your area, ensure that they will teach you the skills needed for a career in the beauty industry. Cosmetologist duties may vary from state to state, but these skilled professionals are typically found providing scalp and facial treatments, and makeup analysis. Most cosmetologists also actively recommend professional and salon hair care products1.
So what do cosmetologists need to know? A simple search for "cosmetology programs near me" could help you learn more about the job description and all that it entails. Searching for the "best cosmetology programs near me" could help you become familiar with the skills needed in the field, such as:
Skincare
Haircutting
Manicuring
Hair straightening
Permanent waving
Shampooing
Curling
And more!
Hands-on training could help you learn and become experienced with the beauty services a successful cosmetologist can provide.
Searching for "The Best Cosmetology Programs Near Me" Can Benefit You!
If you want to attend beauty school, now is the time! Cosmetology students can be eligible for a variety of benefits at an accredited cosmetology beauty school.
Many programs offer financial support to those who qualify, which can make going to school (or back to school) more attainable! If you are eager to learn, the financial aid office at many schools will counsel you on a variety of options fit for your situation. When looking for "cosmetology programs near me" it is important to browse financial aid and potential benefits that could support your learning. You may be surprised to learn that searching for the "best cosmetology programs near me" might help you come across benefits such as scholarships, job placement assistance, flexible classes, and more!
Attending Cosmetology Beauty School Could Help You Begin a Career Quickly
Enrolling in a cosmetology program near you could put you on the path to receiving your cosmetology license and beginning your career as a beauty professional! When learning about cosmetology courses available in your area, make sure you understand how to fulfill your state's licensing requirements. According to the bureau of labor statistics, cosmetologists must obtain a license to work. Qualifications for a license vary by state, so it is important to stay informed2.
Enrolling in a state-approved training program is one of the things to search for when learning about cosmetology courses. After graduating from a state-approved training program, students take a state licensing exam that includes a written test and, in some cases, a practical test of styling skills or an oral exam2. The "best cosmetology programs near me" could be the ones that prepare you to begin your journey towards helping clients look and feel amazing, all while staying close to home.
Mildred Elley's curriculum will help you learn the answers to basic questions such as "what do cosmetologists need to know?" and "what classes do you need for cosmetology?". Mildred Elley is licensed to operate as a Cosmetology school and the Cosmetology program is approved by the Board of Registration of Cosmetologists of the Commonwealth of Massachusetts. Our Pittsfield, MA cosmetology school offers students the opportunity to make their mark on one of the "best cosmetology programs near me", where they will be able to learn in an engaging environment.
Hone your technical and customer service skills through on-campus salons and in-class instruction! After successfully completing the Cosmetology Certificate program, students are eligible to sit for the State Board of Cosmetology Licensing Exam in MA and can begin their journey toward becoming a cosmetologist.
If you can see yourself as a cosmetologist working in salons, studios, and more, enroll with us today!
Learn more about cosmetology training at Mildred Elley!
Sources: