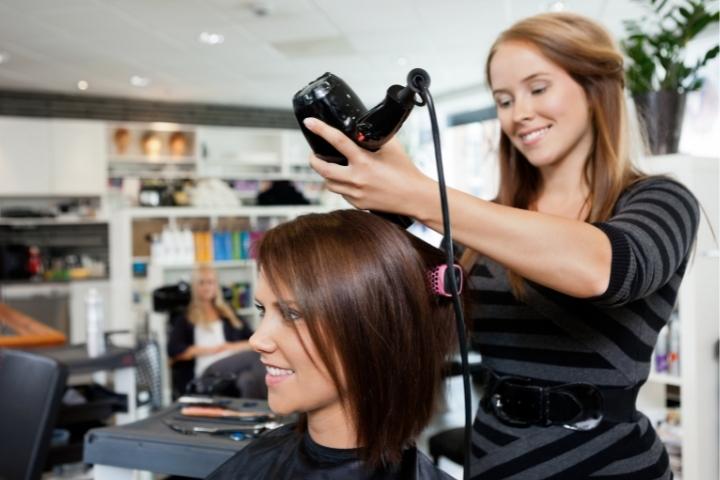 Are you somebody who's always got a few tricks up their sleeve when it comes to beauty and styling? Are you wondering  "What is cosmetology school?" If you love spending time on anything to do with hair, make-up, or skincare, there's a good chance you can develop an entire career based around helping people to look their absolute best. Why not pursue a career in the beauty industry?  Along with asking "What is cosmetology school?" you're probably wondering if cosmetology courses are right for you.
By enrolling in a cosmetology program, you can equip yourself with the right skill set to help boost people's confidence and tend to their physical appearance. If we have sparked your curiosity about  "What is cosmetology school?" and if it's for you, then keep reading to find out if it's really for you!
Take the first step in your career journey today!
Cosmetology programs and the artist in you
Taking care of people's skin, their hair, make-up, and nails requires you to be exposed to a lot of color, texture, patterns, and artistic choices on a day-to-day basis. So, if you're somebody who's always been more fond of the arts, then you're bound to have a lot of fun on the job! From painting different patterns on the customer's nails to choosing the best hairstyle that will suit their face shape, there's scope for a lot of creativity in pursuing cosmetology as a career choice. 
How does
cosmetology school
prepare you?
Who isn't attracted to the glamorous beauty industry? But when it comes down to it, most jobs in this industry require you to be constantly on your feet, moving, reaching for things, and making sure your client is being taken care of. After all, when somebody walks into a salon, they're coming to be pampered and to show their body some love and long-due appreciation. 
So, Cosmetologists spend most of their shifts standing so their customers can be at total ease. And for complete customer satisfaction, a Cosmetology school will train you in customer service, hair cutting, manicuring, skincare, product knowledge, make-up, and much more.
Begin your journey with a
Cosmetology training program
Without individual skill, patience, care, and artistic expression, what is Cosmetology? No one Cosmetologist can entirely duplicate the work of another. This is exactly why Cosmetology has vast entrepreneurial opportunities. 
After working and gaining some experience, one can quickly identify their best attributes and pitch clients to work with them as independent artists. Maybe you're good at doing nails, and you want to open a salon solely dedicated to manicures and pedicures. Or perhaps, you want to provide door-to-door make-up and hair services. Whatever it may be, once you receive your Cosmetology license, the possibilities are limitless.  
So what is cosmetology school like at Mildred Elley?  At Mildred Elley, you can begin to pursue your passion right away working on mannequins and then when you have accumulated enough skills and hours you will move on to actual clients at the student clinic. 
Mildred Elley is licensed to operate as a Cosmetology school and the Cosmetology program is approved by the Board of Registration of Cosmetologists of the Commonwealth of Massachusetts.. And after a 1,000 hours of cosmetology training, you'll be eligible to sit for the State Board of Cosmetology Licensing Exam. Mildred Elley also offers financial aid and scholarships for those who qualify. There are several Cosmetology programs out there, but Mildred Elley is one that provides lifetime job placement assistance to all its students.
It feels great when customers look in the mirror and radiate with confidence because of the work that you've provided. Don't hold back, it's time to pursue the career of your dreams.
Learn more about the cosmetology program at Mildred Elley today!