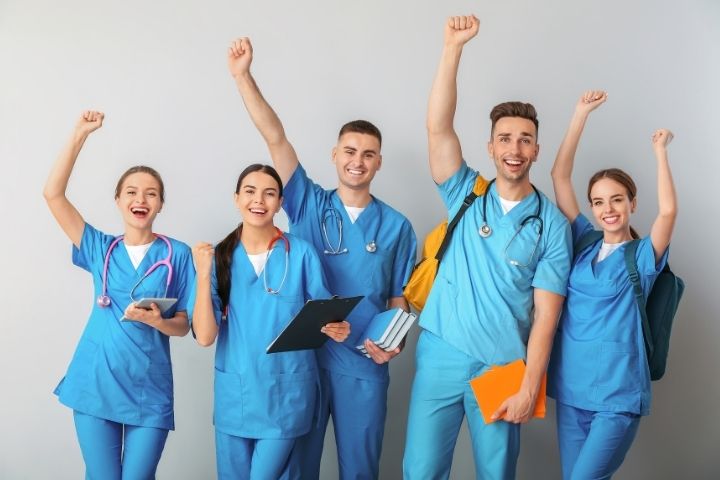 Seeking a career in assisting others at your job as a clinical or medical assistant in the healthcare profession is a well-thought decision. But what's next?
Medical Assistant School
will prepare you to assist doctors and act as a link between patients and healthcare providers. As a medical assistant, you are an important part of the practice's administrative and clinical healthcare teams.
When you search for "medical assistant training program near me", you should find schools and programs that will teach you medical terminology, anatomy, and physiology, as well as administrative skills and processes. It will also teach you how to carry out your medical assistant daily duties, professionally and respectfully.
Continue reading to find out if you should apply for Medical Assistant School, and why it may be the career for you. It's time to get started on your new career today.
Take the first step in your career journey today!
Role Of Medical Assistant Programs
A CMA course aims to provide a high-quality education to students by providing a strong clinical and administrative basis. Graduates are equipped to work as medical assistants at the entry-level. Find a CMA course that will provide you with the cultural variety, knowledge, and skills, and a drive to learn and grow intellectually.
You Possess the Medical Assistant Key Skills
A Medical Assistant program should provide you with the right skills and qualities to succeed in your studies and pursue entry-level jobs. The Medical Assistant key skills and wisdom that you will gain eventually are the following:
Analytical skills
Detail oriented
Interpersonal skills
Technical skills¹
The Positive Career Growth
Are you interested in enrolling in a program that has a positive outlook in the future? If you are, then you may want to consider enrolling in a CMA course. Employment of medical assistants is projected to grow 18 percent from 2020 to 2030². The Medical assistant career path looks strong, so why not take that chance and enroll in a program near you?
Room for Improvement
The possibilities for future professions in the medical field are endless after you obtain your Medical Assistant Certificate. The medical assistant career path provides you with the fundamental medical information you'll need to pursue a range of specialties. When deciding on a new professional path, think about what interests you the most and where you think you'll be happiest. You have the option of pursuing a career in clinical medicine or medical administration. Here are some options to think about:
According to the Bureau of Labor Statistics, the largest employers of Medical Assistants are the following:
Offices of physicians
Hospitals; state, local, and private
Outpatient care centers
Offices of chiropractors³
You Enjoy Helping Others
Going into the healthcare industry could mean that you have a passion for helping others in need. If you have this desire in your life to help people, going through a medical assistant career path could be the right thing for you. When you decide on this type of career you should be interested in the medical assistant daily duties that you could be performing. Are you asking "what are those medical assistant daily duties?" They are listed below:
Record patient history and personal information
Measure vital signs, such as blood pressure
Help physicians with patient examinations
Give patients injections or medications as directed by physicians and as permitted by state law
Schedule patient appointments
Prepare blood samples for laboratory tests
Enter patient information into medical records

4
Do these duties and responsibilities interest you? If they do, then what are you waiting for? Enroll in a Medical Assistant School today!
Short Training Time
Are you interested in going into the healthcare industry but you don't want to spend years of your life in school? Well you are looking in the right direction! When you sign up for a CMA course, you have the opportunity to complete it in less than 2 years! Who said school had to be long?
After graduating from the right medical assistant school, student's have the opportunity to sit for the national certification exams through the National Healthcare Association. Once you have passed the exam, you will be ready to apply for entry-level jobs!
When you decide to enroll in Mildred Elley's Medical Assistant medical assistant course, you are enrolling in a program that is designed with you in mind and includes many degree options that will save you time and money. Why wouldn't you want to enroll? Medical assistants have so much growth in the future, they are designed to help others in need, and there is always room for improvement.
Mildred Elley is one of the renowned medical assistant schools and is provided at all three of our campuses. It is one of the finest facilities for all students. In order to make you ready to take on the challenges, the following benefits are offered on top of the top-notch academics:
Scholarships and Financial Aid available For Eligible Students
Veterans Education Benefits available at Albany, NY and NYC campuses
Flexible Timings
Free Career Assessment, Training And Placement Assessment (Lifetime), and much more
Everyone can take advantage of our educational initiatives be it modern laboratories or updated curriculum.
Like all career paths, pursuing the profile of a medical assistant requires you to go through a lot of considerations and make alterations accordingly. As we can see in the article, it isn't too complicated or too simple but it does demand you to have a certain level of clarity. We hope that this article helps you unravel the facts revolving around applying to a medical assistant school once and for all.
Learn more about Medical Assistant at Mildred Elley
---
Sources: