Clinical Medical Assistant Certificate
The Clinical Medical Assistant Certificate program provides an in-depth analysis of human anatomy and physiology, clinical and laboratory procedures and patient contact skills utilized in a clinical environment.
Clinical Medical Assistant NYC – Traing Towards your CCMA Certification at Mildred Elley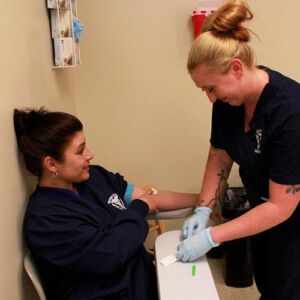 Are you looking to build a successful and fulfilling career in healthcare? Do you want to make an impact in the lives of others? If you said "yes" to either of these questions, becoming a certified clinical medical assistant could be the perfect career path for you! Pursuing a career as a clinical medical assistant NYC can be your entryway into the medical field. You will learn how to provide excellent care during every patient interaction and how to complete common medical assistant duties. At Mildred Elley, you can attain the skills you need to take your career to the next level by studying towards your CCMA certification. After beginning your clinical medical assistant NYC training, you could finish in as little as 14 months. Not only is our program fast-paced but we also offer flexible schedules to work around your current commitments. This can give you the opportunity to meet your personal and private goals. At Mildred Elley, we want to help make your dreams a reality while giving you a higher education experience in our Clinical Medical Assistant NYC program!
Clinical Medical Assistants Are In High Demand
As of 2018, New York ranks in the top 5 states for the highest employment levels of Medical Assistants1. The Bureau of Labor Statistics projects medical assistant job growth to rise by 29% from 2016 to 2026. Now could be the best time to begin your career path as a certified clinical medical assistant in NYC2! The demand for qualified CCMA's will increase as the aging baby boomer population seeks dependable healthcare from medical professionals. In addition to this job being in high demand, the average Clinical Medical Assistant's salary in New York is $37,560 a year3. This important vocation could give you the opportunity to accomplish your financial goals while simultaneously improving someone's quality of life!
Certified Clinical Medical Assistants Can Fill Multiple Roles in Healthcare!
Clinical Medical Assistants are trained in a variety of skills that could include patient care, phlebotomy, EKGs, and electronic medical records knowledge. Since CCMAs are trained to fill multiple roles in healthcare, medical facilities can cut costs on other positions. The more skills a CCMA learns, the more valuable they become to their team. At Mildred Elley, our Clinical Medical Assistant NYC programs will give you the training you need to perform routine CCMA responsibilities such as:
Record patient health information and doctor's notes

Take blood samples and prepare for lab tests

Assist physician in patient examinations

Schedule appointments and follow-ups

Advise patients on medication usage and diets

Relay messages from doctor to patient 

Adhere to patient privacy laws

Prep patients for x-rays 

Check and note vital signs

4
Clinical Medical Assistant Classes | Prepare for the CCMA Exam in NY at Mildred Elley
Successful completion of one of our Clinical Medical Assistant programs will make you eligible to take the National Clinical Medical Assistant Certification exam. To properly prepare you for the CCMA exam, Mildred Elley emphasizes hands-on training and on-site instruction in the following areas:
Anatomy & Physiology
Medical Law & Ethics
Document Processing
Introduction to Patient Care
Specialized Procedures
Medical Terminology
Medical Insurance
Hematology & Phlebotomy Procedures
Cardiovascular Care & Procedures
Our Clinical Medical Assistant Programs include an internship that will make you career-ready, giving you the experience to hit the ground running in your new career. You will be exposed to varied patient populations helping prepare you for diverse patient interactions. Our Clinical Medical Assistant New York City internship will also give you experience in administrative work that makes up much of CCMA duties. These classes can aid you in becoming a well-rounded student and equip you for an entry-level CCMA job. Obtaining CCMA certification has never been easier!
Ready to make a change? Take the first step!
Requesting information requires no obligation or commitments.

---
Our Clinical Medical Assistant Program Benefits Include…
Financial Aid & Scholarships For Those Who Qualify
Lifetime Job Placement Assistance
Flexible School Schedule
Convenient Location in Lower Manhattan's Financial District
Easy Access to Express Subways and Buses
Approved for Veterans Education Benefits
International Students Welcome
Accreditation
For a list of our program accreditations, please visit here.
Lifetime Job Placement Assistance
After successfully graduating from Mildred Elley with a Clinical Medical Assistant Certificate, you can enjoy lifetime job placement assistance! Our staff will connect you with healthcare professionals looking for certified clinical medical assistants ready to take on any task. Our desire is to see YOU pursue a rewarding career in the healthcare profession! Choose Mildred Elley and start the journey today!
---
Sources:
GOT QUESTIONS?
If you're ready to start your career as a medical assistant, CONTACT US now to begin your training!