Practical Nursing (LPN) Program
Healthcare professions are one of the fastest growing career fields in the country. The Practical Nursing Certificate program is a credit-bearing, college-level program that prepares its graduates for licensure as a practical nurse (LPN) in the State of New York.
Practical Nursing
Graduates of this Practical Nursing Certificate program will be well prepared for successful passing of the NCLEX-PN examination, licensure as an LPN in New York State, and subsequent employment in the field.
Our Practical Nursing Certificate program is comprehensive, designed to give you the clinical and lab skills necessary to become a successful LPN. Our school instructors come from a diverse background within the medical industry, helping to provide you with the tools necessary to fulfill your goal to become a Licensed Practical Nurse.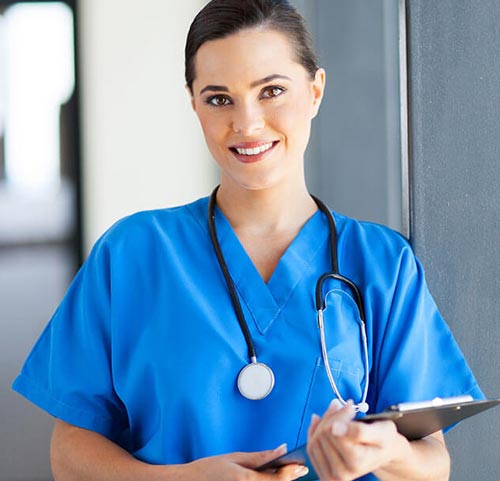 Nycole Gallagher
Class of 2015
"It's the best school. They are very personal and everyone knows my name. My professors remember me and care about me. I've never felt so supported."
Practical Nursing Certificate Courses
Practical Nursing (LPN) program students at the Albany, NY campus of Mildred Elley will also have an opportunity to specialize by taking coursework in the following:
BIO 110 Anatomy & Physiology I
BIO 210 Anatomy & Physiology II
BIO 211 Pharmacology
HEA 112 Medical Terminology
LPN 120 Practical Nursing in New York State
LPN 122 Mathematics for Nursing
LPN 130 Introduction to Practical Nursing
LPN 210 Practical Nursing I
LPN 220 Practical Nursing II
LPN 230 Practical Nursing III
LPN 240 Practical Nursing IV
LPN 280A Special Topics in Practical Nursing: Nursing Leadership and Exam Preparation
Ready to make a change? Take the first step!
Requesting information requires no obligation or commitments.

Practical Nursing (LPN) Program Benefits
Attending Mildred Elley means you not only receive a quality higher education experience, but it also means you get access to the most advanced Practical Nursing (LPN) job training available. Mildred Elley also offers many different benefits for Practical Nursing (LPN) program students.
Financial Aid & Scholarships For Those Who Qualify
Lifetime Job Placement Assistance
Flexible School Schedule
Approved for Veterans Education Benefits
Free Career Assessment
Lifetime Job Placement Assistance
After graduating from Mildred Elley's Practical Nursing (LPN) Program, you can enjoy our lifetime job placement assistance. Our hopes are to see YOU pursue a rewarding career in the healthcare profession!
GOT QUESTIONS?
If you're ready to start your career as a nurse, CONTACT US now to begin your training!