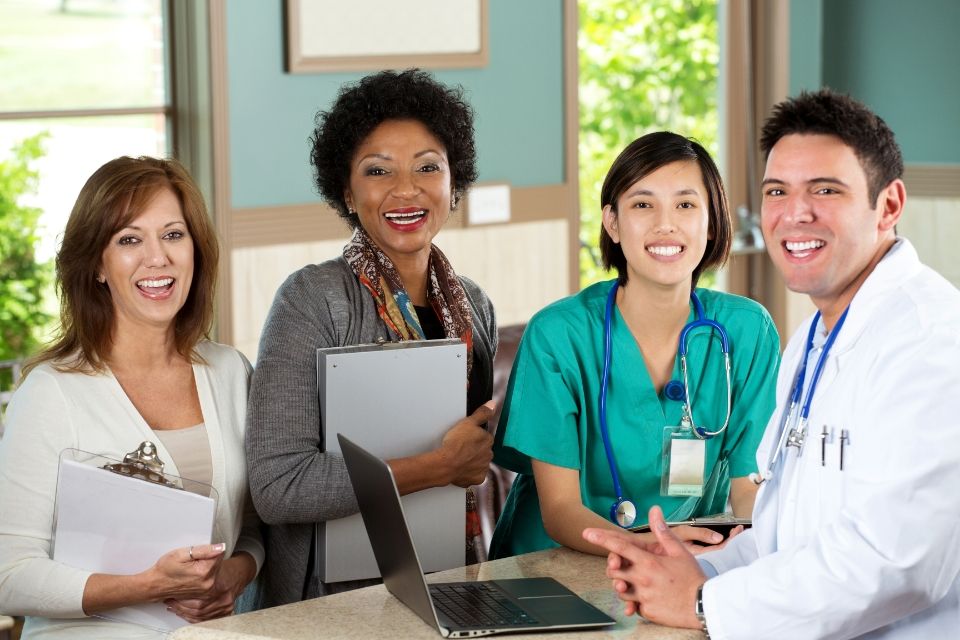 Are you interested in being a key team member in a busy medical environment and helping healthcare professionals complete important clinical medical assistant duties? A career as a clinical medical assistant might be for you! You may be asking yourself, what does a clinical medical assistant do that is so important and why might this be work you would enjoy? These are important questions worth exploring!
Clinical medical assistants are responsible for many clinical and administrative tasks in doctors' offices, hospitals, and other healthcare facilities1. They can do everything from helping with patient examinations to scheduling appointments and much more. Learning more about what clinical medical assistants do and how important they are could make you a more desirable candidate for healthcare employers.
Wondering how to enhance your resume with some of these clinical medical assistant tasks? Continue reading as we breakdown how you could learn typical clinical medical assistant duties to enhance your resume!
What Are Some of the Most Important Clinical Medical Assistant Duties?
One of the interesting aspects of clinical medical assistants' work is the duties can be administrative or clinical. Whether you do one or the other, or both, you can be a vital part of a healthcare team.
Here are a few of the clinical medical assistant tasks that are typically done:
Measure vital signs such as blood pressure, oxygen saturation and temperature
Give patients injections or medications as directed by physicians and as permitted by state law
Prepare blood samples for laboratory tests

2
Here are some of the administrative medical assistant tasks that are typically done:
Record patient history and personal information
Schedule patient appointments
Enter patient information into medical records

3

Submit billing to medical insurance
Another skill that could improve your resume is learning about electronic health records (EHRs)s. More and more doctors are using EHRs and are transferring all patient records to electronic files (4). Medical assistants should learn to know how to use EHR software, and having that skill on your resume could possibly prove to be important!
Now that we know what some of the important clinical and administrative aspects of a medical assistant are, let's look closer at why they are important and how they could enhance your resume!
How Clinical Medical Assistant Duties Can Enhance Your Resume
The responsibilities we highlighted above are the major clinical medical assistant duties. Learning and honing these skills in a clinical medical assistant career training program could be a good addition to your resume, and help you stand out as a candidate! Enrolling in a clinical medical assistant career training could provide you with the hands-on skills that employers may want. Learning those in-demand clinical skills from experienced instructors could improve your resume and give you the skills you need to land your first clinical medical assistant job.
Interested in adding these important medical assistant duties to your resume? The first step is to enroll in a program for Medical Assistant career training.
Career Outlook for Clinical Medical Assistants
The US population is aging, and demand is rising for most medical services provided by physicians. According to the US Bureau of Labor Statistics, employment of medical assistants will grow 18% from 2020 to 2030, which is much faster than average compared to other occupations 5.
As more Americans want more medical services, there will be a larger number of group practices, clinics, and other healthcare facilities. Clinical medical assistants may be in demand. So, learning the duties of clinical medical assistants and mastering them could improve your resume. Also, learning the clinical and administrative skills you need to shine in this field may help you to become a key part of a healthcare office.
Get Started With Medical Assistant Career Training at Mildred Elley
Have you been asking yourself "Are there clinical medical assistant programs near me?" If you are interested in a career as a clinical medical assistant consider enrolling in clinical medical assistant courses at Mildred Elley. Our Clinical Medical Assistant program is offered at the following locations:
The Clinical Medical Assistant program offered at Mildred Elley is designed to teach you the essential skills and knowledge you might need to know to excel as a medical assistant. You will learn various medical procedures and common administrative tasks that are important in a busy medical office.
You also will hone your analytical, technical, and communication skills in this training program, which are important in recording patient medical histories, taking vital signs, and collecting and processing lab information. You will have the opportunity to learn everything you need to know to be successful as a medical assistant in a variety of healthcare settings. Having these skills on your resume will make you stand out and may help you get your first job in this growing field.
We conveniently offer our medical assistant courses at all three campuses in Massachusetts and New York! The clinical medical assistant courses at Mildred Elley are designed to help you get hands-on training to become career-ready. Take the first step towards joining the healthcare industry with Mildred Elley and get started on your medical assistant career training today!