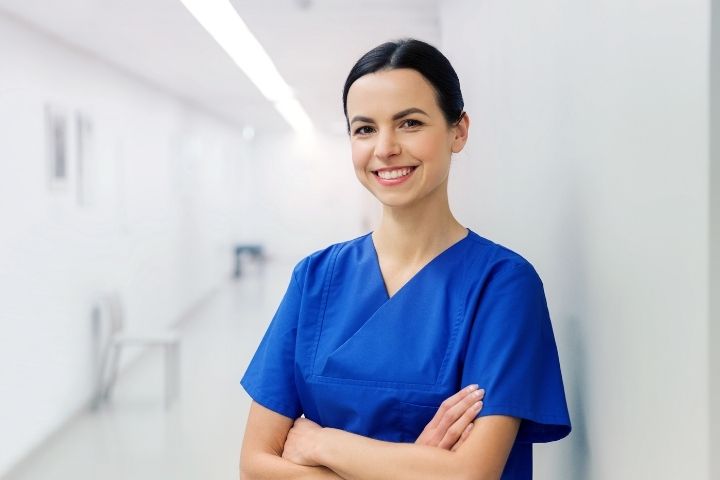 You are a caring, compassionate and ambitious person when it comes to reaching your professional goals. If you are ready to work toward making your career goals a reality, then you could focus these attributes toward a career in healthcare!
By pursuing this rewarding career path, you could finally obtain the fulfilling career you've always strived for. Finding the right role for you and your professional goals within this in-demand industry could be as simple as enrolling in an LPN Certificate program. Immersing yourself in practical nurse education courses could allow you to take your first steps toward providing daily care to patients in a variety of healthcare settings.
If you are looking for a way to hone your patient care skills toward a rewarding career, then it is time to put your plans in motion. Continue reading to learn how you could reach your professional goals by receiving an LPN education!
Take the first step toward your professional goals at Mildred Elley!
What Does a Practical Nurse Do?
If you have never considered a Practical Nurse career before, it could be important to learn what to expect from a day on the job. The foundation of this career path lies in the daily tasks you could be responsible for. Understanding the typical duties of an LPN could help you decide if this career is right for you.
Licensed practical nurses (LPNs) provide basic medical care. They work under the direction of registered nurses and doctors1. At their core, LPNs may play a crucial role in the function of many medical teams. In many ways, they could be responsible for bridging the gap between patient and doctor.
The responsibilities of an LPN can depend on the various care facilities that LPNs work in. Licensed practical nurses typically do the following:
Monitor patients' health—for example, by checking their blood pressure
Administer basic patient care, including changing bandages and inserting catheters
Provide for the basic comfort of patients, such as helping them bathe or dress
Discuss the care they are providing with patients and listen to their concerns
Report patients' status and concerns to registered nurses and doctors
Keep records on patients' health

1
If you can picture yourself performing any of the responsibilities of an LPN, you could begin honing your skills by taking practical nursing classes!
What can I learn from practical nursing classes?
By completing an LPN Certificate program, you could be prepared for one of the most rewarding careers in healthcare. The lasting skills learned through LPN programs could be put to work throughout your career. Furthermore, program graduates receive a certificate or diploma for their work, which could be desirable to employers.
Practical nursing classes could also allow students to hone vital soft skills for the job. As an LPN program graduate, you could demonstrate all the qualities that drew you toward this career path in the first place: your compassion, attention to detail, interpersonal skills, patience, physical stamina, and speaking.
Your entire life could change for the better in as little as a year! You could have the confidence and knowledge to perform the duties of a Practical Nurse after successfully completing practical nurse education courses. By following this path, you could make a difference in the lives of those in need while reaching your own professional goals.
How Do I Find the Right LPN Certificate Program?
If the duties of a Licensed Practical Nurse align with your professional goals, congratulations! Now it's time to take the first step toward this new career path. To make your goals a reality, it may be best to find an LPN Certificate program in your area to stay close to home.
If home for you is in the state of New York or Massachusetts, try looking for practical nursing programs in NY or a practical nursing program in MA to start. Discovering just the right LPN Certificate program could be the biggest step you take toward achieving your career goals.
The right LPN certificate program for you could be closer than you think! Therefore, it's important to do your research when choosing where to start.
Let Mildred Elley's LPN Certificate Program help you reach your professional goals
If you are interested in practical nursing programs in NY or are searching for the right practical nursing program in MA, then look no further than Mildred Elley! You could prepare for your new goal of becoming a practical nurse by beginning your LPN Certificate Program at a Mildred Elley campus.
There are campuses conveniently located in Albany, NY; New York, NY; and Pittsfield, MA! No matter which campus you choose, you could prepare for a rewarding career in health care through hands-on application as well as classroom instruction.
Mildred Elley's practical nursing classes focus on the skills and knowledge you may need to be successful in this growing field, such as:
Introduction to Biology of the Human Organism
Anatomy & Physiology I
Pharmacology
Medical Terminology
Introduction to Practical Nursing
And more!
Are you ready to begin the next, exciting chapter in your life? Reach your professional goals by enrolling in practical nurse education courses at Mildred Elley today!
Discover Mildred Elley's LPN Certificate Program!
---
Sources: